South African Airways IT (SAA-IT) has implemented a pilot phase of Fujitsu / CTI's Network Aware mobile application to a group of 20 users. A complete deployment of the application is planned for 800 users. The Network Aware application integrates with existing SAA-IT systems and empowers SAA operational staff to be in touch at all times and locations when carrying out their duties and transforms the workplace from being desk bound to full mobility.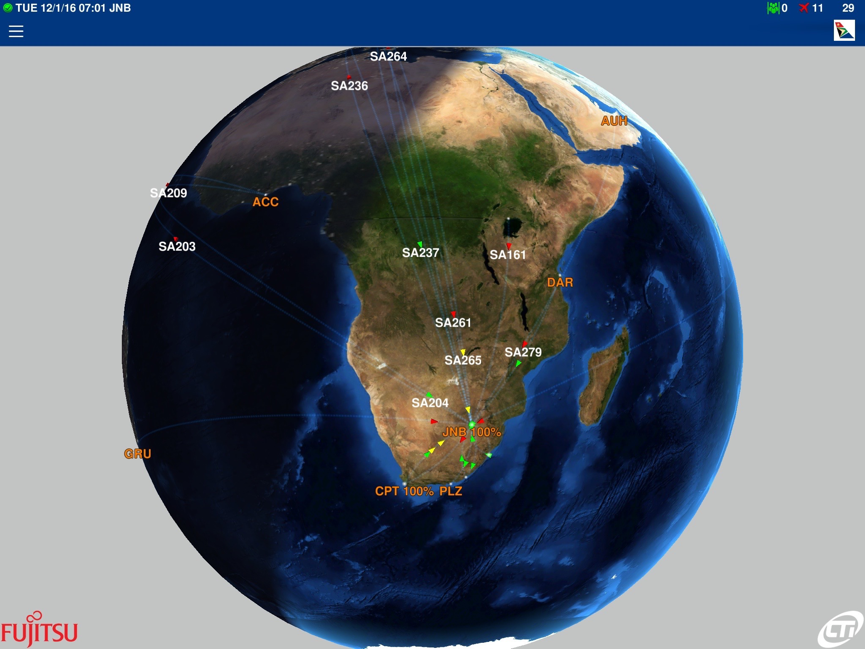 "Network Aware is the result of the Fujitsu / CTI partnership, which allows SAA to evolve its PegaSys Operational system into a cutting edge modern IT system. This implementation represents an innovation that is a result of this Partnership. We look forward to a full implementation of the product." says James-Leon Roberts, Senior Manager SAA-IT flight operations.
"Today, more corporate companies are partnering with technology firms to increase and enrich their situational awareness and their value proposition. SAA, together with Fujitsu and CTI have ensured that the Network Aware product provides enhanced awareness which improves both operational efficiency and the customer experience" says Shaun Pillay HOD Operations
"The Network Aware trial implementation leverages off our existing secure, scalable, hosted airline-tracking server. This enables consolidated real-time tracking data to be provided to a range of devices using rich 3D visualization.
CTI works closely with customers and partners in the highly competitive airline sector. We provide solutions that help our customers plan, operate and manage their business more effectively." Says Julian Warner (CTI Senior Vice President Global Solutions)
"The innovative mobility product is an addition to the existing Fujitsu PegaSys operational system. With this implementation Fujitsu is able to provide modern mobility to a stable and reliable core SAA system." Says Alex Wann Airlines Manager Fujitsu South Africa
"Our association with Fujitsu / CTI allows us to show our commitment to deliver the latest product innovation and value added services to user community." concludes Leon-Roberts.